Roberts Prances Out Of Committee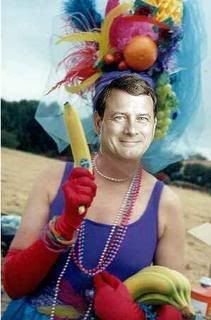 Only five gay hatin' Democrats in the Senate Judiciary Committee voted against Judge Roberts becoming the next Chief Maddam Justice of Fabulous Court of the United Straights, I mean States. The 13-5 vote to
send the nomination to the full Senate
included all 10 Republican and 3 Democrats.
The five playa hatin' Dems were Dianne Feinstein of California, Joseph I Did Too Write That Biden of Delaware, Edward The Swimmer Kennedy of Massachusetts, Charles Schumer of New York and Dick, just Dick, Durbin of Illinois.
Roberts should sail through the full Senate, where additional Democrats are expected to protect their Red State hides and vote for the possibly gay Justice. They include Patrick Leahy of Vermont; Herb Kohl and Russ Feingold, both Wisconsin; Tim Johnson of South Dakota; Ben Nelson of Nebraska; and Max Baucus of Montana.
Sen. Mary Landrieu of Louisiana has indicated she is floating toward voting for the nominee. Sen. Kent Conrad of very Red State North Dakota is viewed as a possible vote for him, as well.
The Zima and White Zinfandel is chillin. I can't wait till the party next week.
Cross-posted
at
No Government Cheese
.