Hugo Chavez Supports Judge Roberts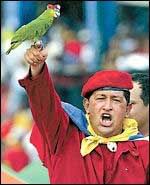 Translators hired by CBWSTGJR recently advised us that Venezuelan President and U.S. enemy
Hugo Chavez
held a festival in favor of President Bush's nominatee to the Supreme Court, Judge Roberts.
Pictured holding up a parrot that he named "Roberts de Judicial Oficianado," Chavez claimed that a Constitutional Republic that respected the rule of law and limited powers at all three branches, including the judicial branch, was the best way to ensure that someone like him never became an all powerful dictator.
Chavez explained that so long as the United States maintained a dispersed power structure with checks and balances, the wussies in Congress were less likely to authorize the overthrow of his corrupt and troublesome regime.
Chavez then danced the
macarena
for two solid hours.